(Family Features) Staying indoors and wrapping up in a blanket is one way to avoid winter's frigid weather, but less exposure to the sun can also put you at risk of a vitamin D deficiency. Milk is the primary source of vitamin D in the American diet, according to research published in the FASEB Journal, making it a great choice on dark winter days.
An 8-ounce glass of milk provides 30 percent of the daily value of vitamin D, so just three cups of milk each day will provide 90 percent of your body's recommended daily requirements. Milk is also an easy way to get other essential nutrients like B vitamins for energy, high-quality protein for lean muscle and vitamin A for a healthy immune system.
When you need a quick way to warm up on a cold day, try this creamy chicken corn chowder recipe that can be made with a pressure cooker. Cooked with wholesome ingredients like milk, chicken and potatoes and topped with bacon and green onions, it's an easy and delicious addition to your weekly meal rotation. For more recipes to warm up your winter, visit milklife.com.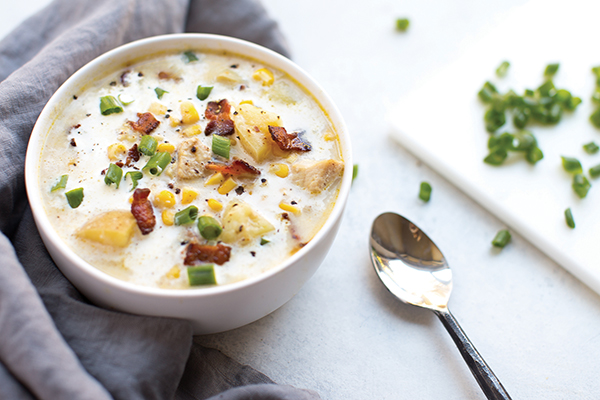 Pressure Cooker Corn Chowder
Servings: 12
6 slices (6 ounces each) thick-cut bacon, chopped
1 small yellow onion, diced
3 cloves garlic, minced
1 pound boneless skinless chicken breast, diced
1 bag (16 ounces, about 3 1/3 cups) frozen corn kernels
4 cups chicken broth
1 pound unpeeled or peeled Yukon Gold potatoes, cut into 1/4-1/2-inch chunks
1/2 teaspoon kosher salt, plus additional, to taste
1/2 teaspoon coarsely ground black pepper, plus additional, to taste
2 tablespoons cornstarch
1 1/2 cups fat-free milk
2-3 green onions, sliced (optional)
1 tablespoon heavy cream or half-and-half (optional)
Heat large skillet over medium-high heat. Add chopped bacon and cook until crispy. Using a slotted spoon, transfer cooked bacon to paper towel-lined plate and pour off all but 1 tablespoon bacon fat.
Return skillet to stove. Add onion and garlic; saute 2 minutes, stirring frequently. Add diced chicken and frozen corn; saute for an additional 3 minutes, stirring often.
Remove skillet from heat and transfer contents to pressure cooker. Add chicken broth, potatoes, salt and pepper. Close and seal pressure cooker, making sure the vent is in the sealed position. Cook on high 8 minutes.
While the chowder cooks, make a slurry by whisking cornstarch (or flour) into milk. Set aside.
When done, remove pressure cooker from heat. Allow pressure to release on its own or carefully quick-release pressure after a few minutes. Stir in the cornstarch-milk slurry. Cover and allow chowder to thicken for 10-15 minutes before serving.
Portion soup into bowls and generously top with bacon. Garnish with green onion and cream or half-and-half, if desired. Season with additional salt and pepper, to taste.
Nutritional information per serving: 190 calories; 5 g fat; 1.5 g saturated fat; 35 mg cholesterol; 14 g protein; 20 g carbohydrates; 2 g fiber; 530 mg sodium; 52 mg calcium (6% of daily value). Nutrition figures based on using fat-free milk.
SOURCE:
MilkPEP