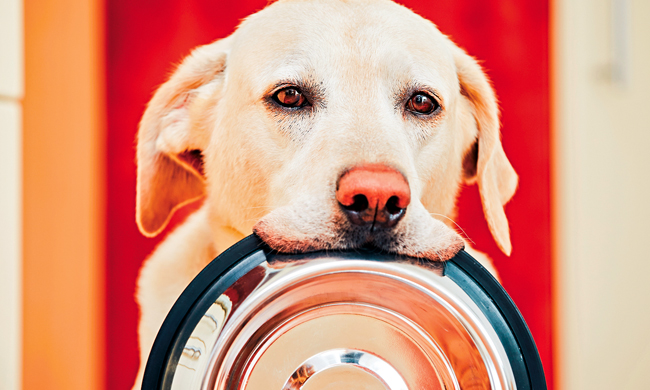 (Family Features) For dog owners, your pet is often your world and there are few things more special than the bond you share. From playtime to mealtime, you never settle for "good enough," and your dog's health is no different.
When it comes to nutrition, every dog has specific needs and you know them best. Each dog is unique and his or her food should be as well.
When deciding which dog food works best for your pet, keep personalized foods like Just Right by Purina in mind, which can help address your dog's unique needs. It combines your firsthand knowledge with nutritional expertise to create the best dog food blend for your dog. By answering just a few questions about your pet's breed size, eating habits and more, you can create a personalized blend of food that includes your dog's name, photo and feeding recommendation that gets shipped directly to your door.
"Every pet is an individual and that includes how we feed them," said veterinarian Dr. Marty Becker, a 17-year veteran of "Good Morning America" and founder of Fear Free. "A highly personalized diet tuned to their specific needs and combined with plenty of exercise and regular veterinary care can dramatically impact their nutrition, health and wellbeing."
Feeding your dog personalized food could help yield these five benefits:
Healthy skin and coat
By providing important details about your dog's skin and its needs, certain ingredients can be included in order to avoid dry and itchy skin. Omega-3 fatty acids from fish oil, along with vitamin A and linoleic acid, can help keep your pup's skin refreshed and can give your dog's coat the nourishment it needs to be shiny and healthy.
Ideal body condition
Being the right weight can contribute to a lot of different health factors, but having an ideal body condition can be about more than just the amount of food you feed your pet. The right amount of fats and proteins can help keep your dog right where he or she needs to be. Choosing a formula with chicken, salmon or lamb as the first ingredient can help your dog's body feel strong and healthy with their high amounts of protein. Just as important, each dog has different metabolisms and different caloric needs, so personalized feeding instructions like those offered by Just Right by Purina can help your dog reach his or her ideal body condition.
Joint health and mobility
Many dogs are often on the move – walking, running and playing. Having healthy bones and joints can support your dog's overall health, especially in developing puppies, large breeds and senior dogs. Choosing a formula with proper amounts of calcium and phosphorus can help support joints and bones.
Brain development
Puppies need all the help they can get when it comes to growing and supporting life-long health. Giving them foods that include nutrients like DHA that support brain and vision development can inspire your puppy's curiosity about the world.
Active lifestyle
Overall, diet has a big impact on providing the nutrients needed to energize your dog every day, all day long, and ingredients in their food can provide the complete and balanced pet nutrition that helps promote an all-around active lifestyle.
Young or old, big or small, every dog's nutritional needs are unique. For more helpful tips and ways to benefit your dog at mealtime, visit justrightpetfood.com.
Photo courtesy of Getty Images
SOURCE:
Just Right by Purina